Rocky Mountain Tribal Institutional Review Board
"We must develop expert Indians instead of Indian experts".
Beverly Pigman, Institutional Review Board Officer, Navajo Nation
Welcome!
Since March 2010, the Rocky Mountain Tribal Leaders Council has rigorously pursued the development of the Rocky Mountain Tribal Institutional Review Board (RMTIRB).  In this time, we have conducted extensive literature reviews, met with Tribal IRB experts and established the framework for operations of the RMTIRB.  This is important to the future of Tribal Research and benefits our communities because it establishes a formal protocol for research approval when two or more member Tribes are involved in research.  Non-Tribal institutions have historically used Tribal populations and perceived deficits for their gain; the RMTIRB seeks to build on the strengths and resiliency of Tribal populations by ensuring Tribes have the final say in the approval or rejection of research protocols.
Many Tribes have established their own IRBs and processes to review research protocols; RMTIRB does not supersede any individual Tribal IRBs and only activates when two or more member Tribes are involved in research or the RMTIRB is designated by a member Tribe as their official Institutional Review Board of Record.  RMTIRB believes that research must be applied and that funding for Tribes must be equitable.
About Us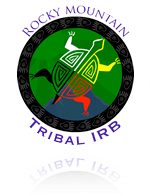 The Rocky Mountain Tribal Institutional Review Board (IRB #00000638) is an administrative body established to protect the rights and well-being of Member Tribes of the Rocky Mountain Tribal Leaders Council (RMTLC).  As fundamental policy, RMTLC strives to ensure as many safeguards as possible are in place for the Tribes as unique political entitites and to see that grant-sponsored activities permitted on the reservations are conducted in ways that 'do no harm' to the cultural integrity of Tribes.  Precisely because these considerations are of utmost concern to the Member Tribes of RMTLC, the RMTIRB is committed to building Tribal infrastructure as a means of strengthening Tribal sovereignty as well as cultural integrity.
Since our goal is to protect Tribes while increasing respect for both short-term and long-term Tribal concerns, the RMTIRB is obliged to ensure that actual benefit accrues to the respective community, just as much as it does to researchers and grantees who are external to these Tribal infrastructures.  Being cognizant of the fact that practicing real respect must be a mutual premise that guides all intereactions, we seek open, honest communications with full disclosure and transparency for all of the particulars of any given grant application that includes Tribes, reservation communities or data regarding these native populations.
Protection of individuals as "human subjects" is generally the primary focal point of non-Tribal IRBs; in contrast, Tribes as whole living entitites comprise the focus of the RMTIRB.  Additionally, the RMTIRB seeks evidence that research and grant applications serve the primary repositories of Tribal knowledge and wisdom so that the institutional memory of the respective communities is enhanced.  If anyone is to "own" Tribal data, then it should be the Tribes themselves first and foremost.  Finally, the RMTIRB seeks to promote culturally appropriate activities and research that is duly authorized by the Tribal governments (or those so delegated by the Tribal government) as the primary authorities on the reservations.
The RMTIRB has been accorded the authority to approve, require modifications in, or disapprove all research and grant activities as specified by the Office of Human Research Protections (OHRP) and federal regulations.  In addition, because the Tribes acted as a body in unison through RMTLC to ensure good research oversight and protections with official Board action, all research or grant sponsored activities that involve two or more member Tribes must be reviewed by the RMTIRB.
The RMTIRB is also the IRB of Record for the Billings Area Indian Health Service (IRB #00000638); thus, any research involving Indian Health Service facilities, clinicians, providers, patient data, and/or related information will be reviewed by the RMTIRB.
Research that has been reviewed and approved by the RMTIRB may be subject to further review, and may be disapproved by the respective Tribe(s).  Furthermore, all RMTIRB approved resarch is subject to continuing annual review and required reporting of changes.  Finally, Protocol Review by the RMTIRB requires inclusion of the total grant application, including the budget.
More Information
An Insitutional Review Board is a committee designated by the Office of Human Research Portections to approve and review research.  The primary goal of an IRB is to protect the welfare of research subjects.  Federal guidelines (45 CFR 46) govern the research and review process, the RMTIRB complies with these guidelines while adding additional protections for the unique cultural, traditional attributes and oncerns of Tribal Nations.  The RMTIRB is different than the Indian Health Service IRB or a University IRB with the primary differences being:
RMTIRB serves to protect communities from harm (as well as individuals)
RMTIRB serves Tribal Nations in Montana and Wyoming
RMTIRB prioritizes Tribal governments and promotes the Tribe's sovereignty, infrastructure development and cultural integrity
RMTIRB encourages input from elders or community members when research protocols involve their people
RMTIRB values traditional knowledge and belief-ways beyond western European cosmologies, philosophies and epistemologies
RMTIRB will ensure research protocols address Tribal concerns as expressed by Tribal Leaders and Tribal program staff
RMTIRB requires that research which identifies disparities should include intervention plans or suggestions to address findings resulting from research
RMTIRB requires equitable allocation of resources by the researcher to the Tribal community
Federal guidelines require at least five Board members and the following qualifications:
One member of the Board shall be a clinical provider with a medical degree and training
One member of the Board shall represent the scientific field including biosatistics, biomedical research, and behavioral research
Two members of the Board shall represent the communities
One member of the Board shall represent special populations to protect the welfare of particularly vulnerable subjects, such as children, prisoners, pregnant women, mentally disabled persons, or economically disadvantaged persons
Topic Area Consultants may be recruited by the Board when required by the subject area of the resarch protcol
In addition to requirements from federal guidelines and in order to serve Tribes here, the majority of the Board members shall be from the communities of the Rocky Mountain Tribal Leaders Council Member Tribes.
Funding for RMTIRB
There is no long-term or stable funding mechanism to support the RMTIRB.  At present, RMTIRB is subsidized by RMTLC; in the past, RMTIRB was also subsidized by a small grant from IHS (NARCH V Core).  In the future, fees paid by investigators for protocol submission may be rquired to offset administrative costs associated with RMTIRB implementation.  The goal of the RMTIRB is to involve researchers and communities in a collaborative process resulting in equally beneficial results.