Tribal Behavioral Health

Tribal Behavioral Health is to promote mental health among the Native American people (ages 5-24) through "Native Connections".  The program is to assist Tribal Behavioral Health Departments to foster culturally responsive models, specifically targeted to Montana and Wyoming Native American community.
Deliverables
Reduce the impact of trauma.
Reduce the stigma toward suicide.
Reduce the stigma for those seeking help.
Increase the willingness for individuals to seek help in a mental crisis.
Provide training to: Tribal Health Directors, Healthcare workers, Teachers, Mental Health Providers, Social Workers, First responders, Youth Counselors, parents and caregivers.
Results Expected
Reduction in the impact of mental health and substance use disorder(s).
Reduction in the impact of trauma.
What is Native Connections?
RMTLC's Native Connections Program funding supports:
Increasing the capacity and coordination of youth-serving agencies that support youth at risk for suicide.
Increasing mental health awareness and substance misuse prevention by implementing culturally-centered small groups, conferences, and Gathering of Native Americans (GONAs).
Why is Native Connections needed?
Suicide is the #1 cause of injury-related deaths in the US.
Montana has the 3rd highest suicide rate in the US, and suicide is highest among Montana AIANs.
Unhealthy environments drugs and alcohol unresolved trauma, and limited access to wellness resources place Native youth at higher risk for suicide.
Who does Native Connections serve?
The RMTLC Native Connections program targets: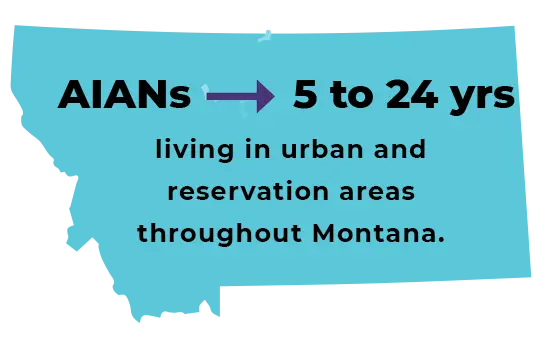 When is Native Connections happening?
RMTLC received funding from the Substance Abuse and Mental Health Services Administration on October 1, 2022, t fund the Native Connections program, which will continue through September 2027.
October 1, 2022 –
September 2027

Share Resources
Suicide prevention training
Coming Soon!

Other Trainings and Workshops