Tribal Epidemiology Centers (RMTEC)
Tribal Epidemiology Centers are Indian Health Service, division funded organizations who serve American Indian/Alaska Native (AI/AN) Tribal and urban communities by managing public health information systems, investigating diseases of concern, managing disease prevention and control programs, responding to public health emergencies, and coordinating these activities with other public health authorities.
Tribal Epidemiology Centers (TECs) work in partnership with the local or area Tribes to improve the health and well-being of their Tribal community members by offering culturally-competent approaches that work toward eliminating health disparities that are faced by AI/AN populations. Accomplishing this often requires the TECs to work with a coordinated approach with the Tribes, the Indian Health Service (IHS), other federal agencies, state agencies, and often academic institutions throughout the country.
Tribal Epidemiology Centers provide various types of support and services due to the variation of the TECs organization structure, divisions, Tribal populations, and their mission and goals. There are currently 12 Tribal Epidemiology Centers in the United States.
Rocky Mountain Tribal Leaders Council, Epidemiology Center
The Rocky Mountain Tribal Leaders Council Tribal, Epidemiology Center (RMTEC), a division of the Rocky Mountain Tribal Leaders Council (RMTLC), started in the fall of 2005. The Tribal Injury Prevention Cooperative Agreement Program (TIPCAP) was awarded in 2015, to support Tribes through injury morbidity and mortality surveillance, while providing technical assistance and support for preventing injuries.
RMTEC has established partnerships with Tribes, BAO-IHS, the former Yellowstone City-County Health Department (YCCHD), Montana Department of Health and Human Services (MT DHHS), Wyoming Department of Health (WY DoH), numerous universities, and private contractors, to meet the priorities of the Tribes.
RMTEC serves 10 Tribes/Service Units (SU's) on 8 Reservations in Montana and Wyoming – an American Indian (AI) population of approximately 73,000.
WHAT TO EXPECT IN 2020
Data Sharing Agreements & Resolutions, Site Visit & Training
The RMTEC Director will be reaching out to Tribal Leadership in 2020 to schedule times for the RMTEC to present to Council and Tribal Health staff on updating resolutions related to RMTEC data stewardship.
The data sharing agreement renewal with the State of WY was finalized and the data sharing agreement with the State of MT was updated in 2017.
RMTEC will provide training on Data Management to all Tribes in Montana and Wyoming
RMTEC will do a site visits to all Tribes in Montana and Wyoming in summer to discuss the status of report/ projects, TA/data request
Contact: Helen Tesfai, RMTEC Director
Tribal Public Health Communication
Please be on the lookout for upcoming RMTEC newsletters that will share important updates and developments in the field of Tribal Public Health, Indigenous Evaluation Methods and other important developments affecting our region.
We will also be developing Public Health Awareness posters to be shared with Tribal Health Departments.

Please share your ideas for poster topics with us!
In distress? Text HELPER to 741741
It is okay to find a helper if you are having thoughts of death, feeling sad or lonely, abusing substances, isolating yourself, sleeping poorly, or feeling angry. Text HELPER to 741741 to connect with a trained crisis counselor 24/7 for free.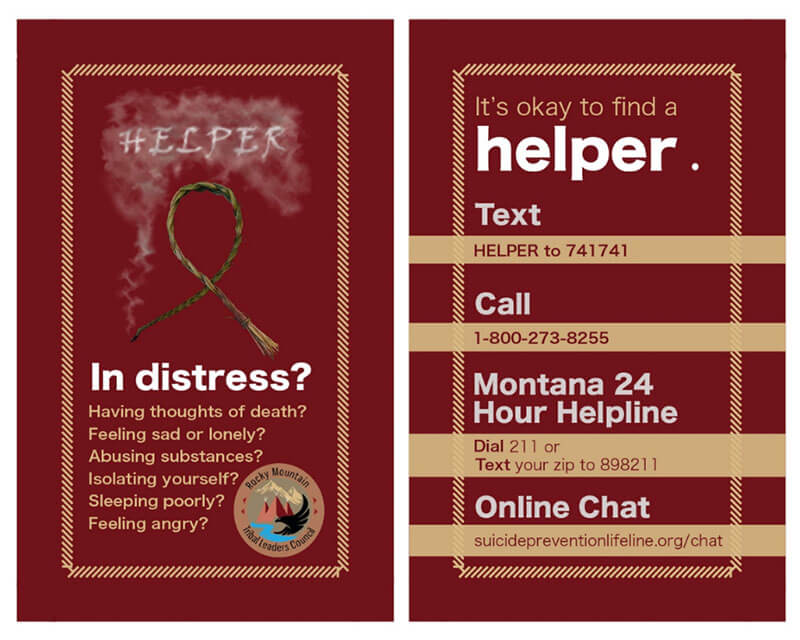 RMTEC Updates
INJURY PREVENTION

(5/24/2019)

-

RMTLC has hired Chibuzor Abasilim as the Injury Epidemiologist for Injury Prevention grant. Currently, he is in the process of…
DATA SHARING AGREEMENTS & RESOLUTIONS

(4/24/2019)

-

The RMTEC Director will be reaching out to Tribal Leadership in 2019 to schedule times for the RMTEC to present…