Insurance giving Native Americans more health care choices
By JAYME FRASER jayme.fraser@lee.net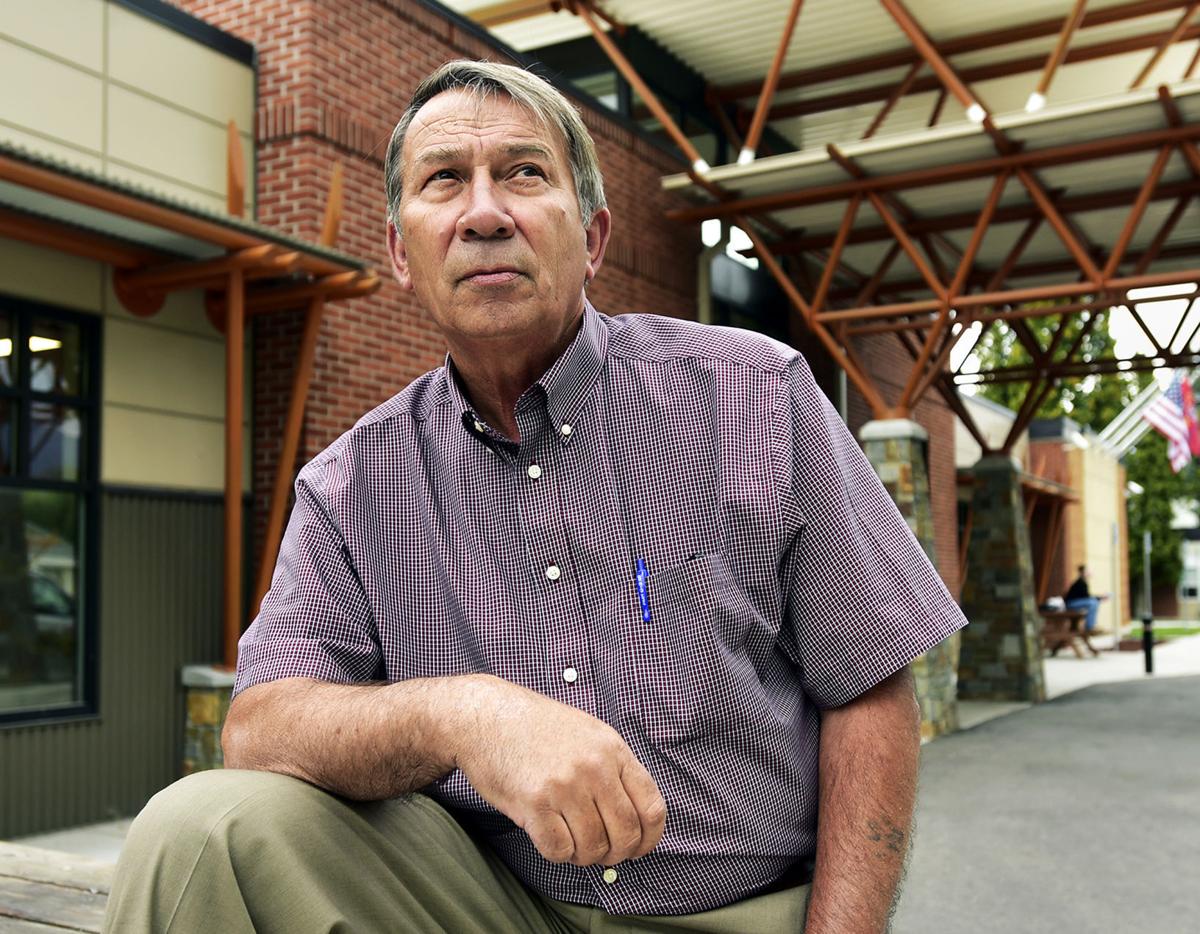 Mike Lamebull brushed white paint across long two-by-fours as he sat in the shade at Our Saviour's Lutheran Church outside Rocky Boy's Agency, thinking about the constant pain he feels but shouldn't have to.
As he often does, Lamebull, 61, wondered how his life would have been different if he could have had double-knee surgery 12 years ago when his doctor told him he needed it. Most Indian Health Service clinics, including those in Montana, have operated at Level One for years, meaning there's only enough federal funding to pay for treatments that are matters of life or limb. The doctor's referral request to send Lamebull for surgery was denied. The pain became unbearable for the lifelong construction worker even with lighter duty as a project manager. Six years ago, he had to quit.
"There's free health care for Indians: That's bulls***," the 61-year-old said.
He laid his brush on the edge of a paint bucket and leaned forward to rub his knees, an involuntary habit.
"I've got a doctor appointment 9 o'clock Friday because of Obamacare," he said.
Thousands of Montana tribal members have sought subsidized insurance, public or private, in recent years. Like Lamebull, many say it's because of frustrations with the Indian Health Service.
Although the federal agency is tasked with fulfilling treaty promises to provide health care for members of more 560 recognized tribes, Congress has consistently underfunded it, forcing hospital administrators to limit the services offered. To match even the level of care provided to federal prisoners, funding would have to nearly double, according to an analysis by the National Congress of American Indians. It would need to be even higher to match the benefits guaranteed by programs such as Medicaid. As a result, tribal members have a different health care reality than other U.S. citizens.
Experts hope improved access to insurance could help bridge the gap between the two systems, making it more seamless for tribal patients to choose how and where to receive their care. Some speculate that private providers might be more interested in opening offices on or near reservations if they knew patients would have insurance to bill.
Federal and state reforms also have expanded revenue opportunities that tribal clinics can use to grow services. But barriers remain for both patients and health providers looking to leverage coverage.
First, more people have to sign up. Even with insurance, IHS rules sometimes can limit the care patients receive. Other realities — like unaffordable premiums, or the cost of traveling to another hospital — can keep families from care. Clinics report other challenges, too: lack of physical space, trouble with recruitment and retention, and burdensome federal rules.
From D.C. to St. Ignatius, health leaders say they are trying to find solutions.
"The big picture goal is to provide more access to quality health care for our patients and to give our patients more options," IHS Principal Deputy Director Mary Smith said upon announcing a Medicaid and Medicare enrollment pilot project at the Browning Community Hospital in July, part of a broader agency push to evaluate insurance usage. "The more our patients are enrolled, the more we're able to leverage dollars … and provide more services."
For some Native Americans, insurance coverage has been a passport out of the IHS system. Because of patient privacy laws, it is impossible to know how many tribal members exclusively access care at non-IHS facilities. For the roughly 40,000 people in Montana who live off-reservation, residency rules sometimes make them ineligible for IHS care.
For others, insurance helps them receive treatments not available at an IHS clinic, or at least not without waiting on a referral review that might end in denial. Given the isolation of most reservations in Montana and the distances to other hospitals, insured families might still go to IHS for care even if they have coverage.
In the end, advocates say, insurance gives Native Americans more choices.
"I just got back from my $4,000 implant because I didn't have the care when I was young," Montana Department of Health and Human Services Tribal Liaison Lesa Evers, who grew up on the Blackfeet Reservation, told a state committee this summer. "When my brother goes to the hospital in Browning and he's got a bad toothache, he stands in line at 5:30 in the morning. There's only so many slots available for dental care. And that's the norm. He may get in, he may not get in. If not, he goes back the next day. When he finally did get in, the only option was to pull the tooth.
"We don't have access to that preventative care we need," she said. "It's very different. When you drive past the office of Dr. Miller in Helena you don't see anybody standing at 5:30 in the morning waiting to get a slot."
Once, when Jessica Windy Boy returned to work for the tribe and lost her insurance, her son needed a tooth filling. She took him to the reservation clinic.
"They wouldn't make a referral to the pediatric dentist because I didn't have insurance to pay for it," she said. "He's 7. He's crying every night because he has a toothache. You're telling me I have to go to (Crow-Northern Cheyenne Hospital) and when I go to Crow, it's surgery? General anesthesia for a filling?
"I felt so discriminated against as a patient," she said. "There I am, I'm working, why am I any less than someone on Medicaid? It doesn't seem right to me."
Sometimes, even having insurance isn't a guarantee of care through IHS facilities.
"You still have to go through the referral committee, and they will still deny you," Fort Peck Tribal Health Educator Carolyn Brugh said.
She said her son had insurance when he tore his ACL. His doctor wrote a referral, but it was denied because his condition was not life threatening and did not qualify for funding. Although federal reforms require IHS to approve referrals for people with insurance, the clinics do not have to guarantee to pick up any uncovered costs. That can lead families to be priced out of care they need.
Situations like this play out across a variety of health conditions.
For instance, the Indian Health Service does not provide prenatal care, and most facilities do not offer birthing services or infant care. Tribal health advocates historically encouraged pregnant and new mothers to apply for Medicaid so they could be seen at other hospitals. If they didn't qualify and couldn't afford insurance, the mothers relied on emergency room care for which hospitals often were never paid.
These types of care might be easier to access and cheaper for facilities if more patients were covered by insurance. Another way providers can improve services is to tap into the other side of recent reforms.
Under the Affordable Care Act, states that expand Medicaid receive a permanent 100 percent federal match for care provided to enrolled tribal members through IHS or tribal programs, including outside referrals. For all other newly enrolled clients, that federal match will drop to 95 percent in 2017 and 90 percent in 2020. Before expansion, Congress paid just 65 percent. In states with large Native American populations, that extra funding has helped keep Medicaid expansions viable, experts say.
Some tribal leaders in Montana hope to convince the state to set aside some of that money for programs to further benefit the health of their communities.
The 2010 law also included the Indian Health Care Improvement Act rider inserted by former Sen. Max Baucus, D-Mont. The measure permanently authorized the IHS Tribal Self-Governance Program, which allows tribes to take over management of some or all clinic operations. It also created new incentives to bill insurance policies, such as guaranteeing for the first time that those collections would stay at the local unit and not result in diminished federal appropriations.
Sen. Jon Tester, a Montana Democrat who is vice chairman of the Committee on Indian Affairs, said he encourages more third-party collections.
"It just makes those dollars go further," he said. "I know there are some tribes that are hesitant billing because they think it's a trust obligation so why should they have to? But the truth is IHS is underfunded."
One of the ways Kevin Howlett rebuilt Confederated Salish and Kootenai Tribal Health, starting years before federal health care reforms, was to get more patients signed up for insurance so there would be policies to bill.
"Prior to 2002, we operated basically with all IHS-appropriated monies. We were providing care, but bringing in no revenue," he said. "Now, we generate about $7 million in a year from the services we provide. All those collections have to be reinvested in health care by law."
Today, they're doubling down. Howlett has hired new eligibility techs and an insurance agent to guide patients through their options. They've created a Tribal-Sponsored Health Insurance Program, or TSHIP, which will pay the out-of-pocket costs from insurance purchased through the exchange by participating tribal members.
The Chippewa Cree Tribe has a similar plan as well as its own TSHIP demonstration project. Also, a two-year Montana Healthcare Foundation grant will fund staff training on billing, said Windy Boy, who became CEO this spring.
She expects insurance collections to increase from $5.3 million last year to at least $6 million this year, largely because of Medicaid expansion. She also hopes to see a 7-to-1 return on the $85,000 invested over the next year to buy insurance for some members with extensive medical needs.
TSHIPs operate on the theory it will cost tribes less to pay for coverage than the full cost of care outright. Other tribes, some of which have had programs as long as three years, report similar return ratios.
"Anything that comes in above $6 million this year, I hope to put some of it back toward our substance abuse programs," she said. "But maybe in the wildest dreams, in three to five years if this demonstration project really takes off, if the Affordable Care Act sticks around — there's a big if on that — then the contract health referral stuff is not as big an issue because everyone has health coverage and we can refer people out to the specialists they need."
Half the battle will be changing the habits of patients. Most tribal members are aware of the funding limitations at IHS, so they often don't come in until there's an emergency.
The Rocky Boy and Confederated Salish and Kootenai tribes have flexibility most federally funded Indian health facilities don't: They are self-governed. That gives them greater latitude to develop their own policies and fold in additional funding sources, such as grants, that IHS can't access.
In the last year, IHS has ramped up its own efforts to expand third-party collections, as have local clinic leaders.
For instance, the Crow-Northern Cheyenne Hospital hired three benefits coordinators this year to identify patients without coverage and assist them with enrollment.
Clinical Director Dr. Lynelle Noisy Hawk is proud to have filled many medical vacancies over the last two years and said she is eager to grow more.
"For example, colonoscopies. We do a lot of send outs for those. We could do those here and save us money," she said. "It would also be appreciated by the families who wouldn't have to be sent out."
Adding services is not just a matter of finding the money, Noisy Hawk said. As an example, she said the hospital has the funding to reopen a long-closed OB/GYN unit. Except, Noisy Hawk said she can't hire nurses quickly enough to make up for ones she's lost, let alone add new services. The three nurses hired in the spring have all since left.
"We are not competitive with the private sector, especially when their other job offers include paying off their loans," she said. "Through the service corps, we can do loan repayment, but that doesn't compare to getting all of your loans paid off just by signing on."
The salaries of IHS employees are set by federal rules with little authority for area directors to adjust them. Using insurance revenues, clinics can offer signing bonuses of up to 25 percent, but those sometimes take months to get approved. In a high-demand job market for health professionals, the best applicants are gone before administrators can make that offer confidently.
The U.S. Senate Indian Affairs Committee Chairman Sen. John Barrasso, R-Wyo., introduced the Indian Health Service Accountability Act of 2016 in May, which would give IHS more flexibility in hiring and firing. Among other provisions, that includes expanded authority to offer higher pay or improved benefits, housing vouchers for workers who commit to work at least a year and expedited hiring approval for some jobs.
In Montana, IHS facilities face the same recruitment and retention challenges as other rural hospitals. That includes hiring medical coders and experienced billing professionals.
"If you don't bill, you don't collect. If you don't bill properly you don't collect," Howlett said. "We have a considerable backlog of claims in the queue that need to be caught up and we're working aggressively to get that done."
The Indian Health Service did not do enough to prepare for increased insurance billings, according to a 2013 study by the Government Accountability Office.
Of course, expansion efforts that rely on increasing third-party collections will only succeed if tribal health providers can get more people to sign up for coverage.
Only a fraction of Native Americans in Montana who are likely eligible for reduced-cost or free coverage have signed up, according to a State Bureau analysis of federal and state data that will be detailed in the second story of this series.
Howlett hopes the message that coverage can lead to improved care will drive more enrollment.
"When a person comes into our clinic, I don't want them to be summarily told, 'No, we can't afford to do that,' " he said. "I want my staff to sit down together and figure out how to do it, whether with Medicaid or private insurance. We need to get from no to yes. We're early in the game, but it's made a big difference."
Were it not for his knees, Lamebull thinks he might have worked years longer for Fort Belknap Tribal Construction.
Over 25 years, he had risen through the ranks until he was shepherding multimillion-dollar projects. All the while, the pain grew worse. It constantly shadowed him, he said, even with a monthly prescription for painkillers and sleeping pills.
Determined to keep going, Lamebull bought a cane and developed an odd walk, lifting with his back muscles to swing his legs. That led to bone spurs in his back.
He lives on the Rocky Boy's Reservation with his wife and found work at the church, where his bosses are sympathetic about the pain that sometimes slows his pace.
"I used to build houses," Lamebull said. "I can't do that anymore. I was barely able to mow my lawn last night — and I got a riding lawn mower — because of the spurs in my back. And that's because my knees weren't fixed.
"It was bone-on-bone," he said, slapping one knee then the other. "I get this replaced, probably in September."
Because of his insurance, he won't have to worry about a referral committee making him wait another 12 years.
Last modified: September 13, 2016