NIHB is excited to announce Olympic gold medalist that Billy Mills will be a keynote speaker at the 11th Annual National Tribal Public Health Summit. Billy will be speaking during the opening plenary session on March 18th.
Billy Mills is Oglala Lakota (Sioux) and was born and grew up on the Pine Ridge Indian Reservation. An Olympic gold medalist and Running Strong's National Spokesperson, he has dedicated his life to serving American Indian communities.
As a child surrounded by poverty and orphaned at the age of 12, he started running to channel his energy into something positive.
At the 1964 Olympics, he shocked the world and came from behind to win the gold medal in the 10k race. At the time, he set a world record of 28 minutes, 24.4 seconds and is still the only American to ever win a gold medal in the 10k event.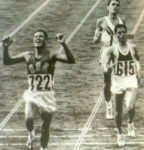 In Lakota culture, someone who achieves great success has a 'giveaway' to thank the support system of family and friends who helped him achieve his goal. As part of his effort to give back to his community, Billy helped found Running Strong for American Indian Youth and became the organization's National Spokesperson. He visits American Indian communities throughout the U.S. and speaks to youth about healthy lifestyles and taking pride in their heritage.
Learn more about Billy Mills
 and join us at the Tribal Public Health Summit to hear more about his journey and his work promoting public health for Tribes.
Last modified: February 6, 2020