Grief, Loss, and Healing with Dr. Clayton Small
Join us for a seminar on Grief, Loss, and Healing with Dr. Clayton Small on March 20-22, 2017 in Billings, MT!
This training is for professionals serving tribal communities, health departments and educators, and community outreach programs.
Grief & Loss Focus:
Create a safe and sacred environment to assist community members and families to process grief, loss and forgiveness in a cultural context, as well as adults helping other adults (peer-counseling). This 3-day training is designed to prepare participants to become facilitators of grief, loss, forgiveness, and healing for their communities utilizing the Good Road od Life (GRL) curriculum as a framework. The GRL is a culture and resilience based peer-to-peer model endorsed by federal agencies.
The training will also address related risk factors including sobriety, suicide prevention, spirituality, coping with trauma, domestic violence prevention, meditation, communication skills, and others.
The process will include follow-up homework for participants to take their personal development, healing, and facilitation skills to a deeper level.
RMTLC's Good Health and Wellness in Indian Country program is proud to offer this training to you.  Our program aims to provide tribal specific training to health staff to address culturally-relevant issues underlying chronic disease prevention and management. We hope to improve the delivery of trainings on team-based care and prevention and management strategies.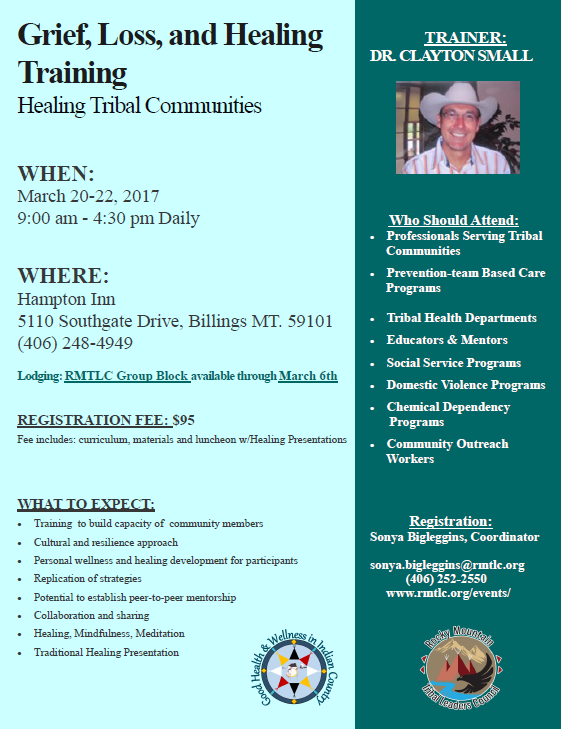 What to Expect:
Capacity Building
Cultural and Resilience Approach
Personal Wellness and Healing Development
Peer-to Peer Mentorship
Collaboration & Sharing
Mindfulness and Meditation
Traditional Healing & Herbs
The registration fee is $95 and includes the curriculum, materials and luncheon with Healing Presentations.  Please click here to download the event flyer to the right.
You can reserve rooms at the Hampton Inn in Billings in the RMTLC Group Block at a rate of $91/night plus tax.
Pre-registration for this event is appreciated.  Please click here to download the registration form and instructions on how to submit your registration.