Training Calendar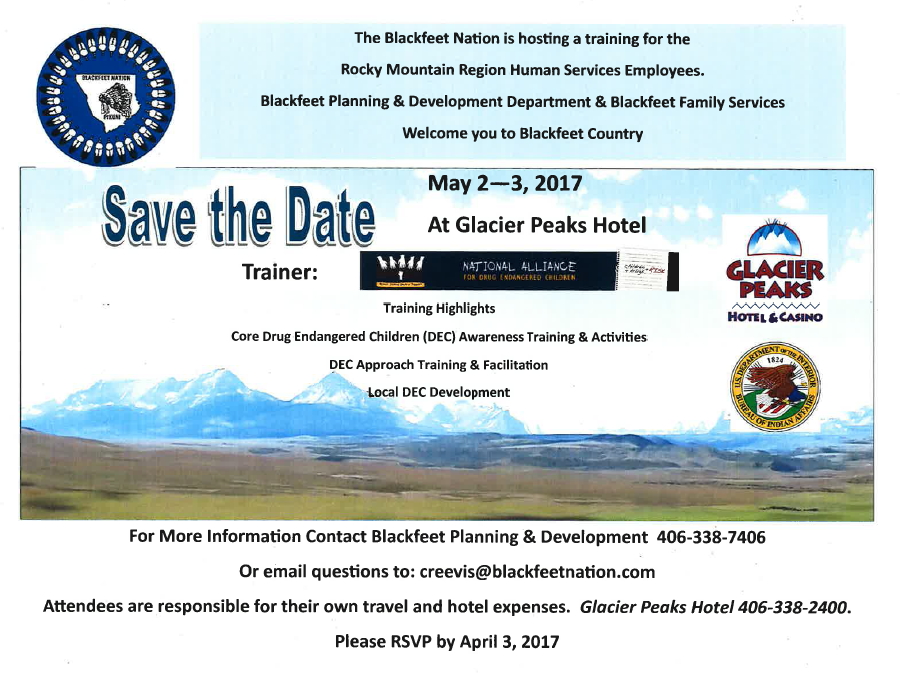 Drug Endangered Children Training
Glacier Peaks Casino – Meeting Room
Browning, Montana
May 2-3, 2017
Date: May 2, 2017
9:00am – 9:30am: Opening
9:30am – 12:00pm:Cultural Training (Not done by National DEC)
12:00pm – 1:15pm: Lunch
1:15pm – 2:30pm: Core DEC Awareness Training/Activities (NDEC)
2:30pm – 2:45pm: Break
2:45pm – 4:30pm: Core DEC Awareness (Continued)
Date: May 3, 2017
9:00am – 9:30am: Opening
9:30am – 12:00pm:DEC Approach Training/Facilitation (NDEC)
12:00pm – 1:15pm: Lunch
1:15pm – 2:30pm: DEC Approach (Continued)
2:30pm – 2:45pm: Break
2:45pm – 4:30pm: Local DEC Development (NDEC)
www.nationaldec.org
Training: BIA Indian Highway Safety Program FY2018 Grant Writing Workshop

On March 25, 2017, the BIA Indian Highway Safety Program will host a FY2018 Grant Writing Training Workshop at:
Lifesavers Conference
Charlotte Convention
Charlotte, North Carolina
(Click here for venue information)
The BIA IHSP is awarding grants to cover Lifesaver Conference registration fees for attendance at the conference, March 26-28, 2017, and the BIA IHSP Grant Writing Training, March 25, 2017.  Please contact the BIA IHSP at (505) 563-3780 for a grant application and Training / Travel Authorization Form.
Travel expenses will be reimbursed for one (1) person from each Tribe that submits a complete highway safety application to the IHSp on or before the due date of May 1, 2017.  Reimbursement will be made in accordance with Federal Trave Regulations along with the submission of a tribal travel voucher, BIA IHSP Trip Report form, and travel receipts to justify expenses.
If you have questions, please call the BIA IHSP at (505) 563-3780.